My name is Samuel Weintraub, and I am a senior at Shaker Heights High School. The school gave me the opportunity to go on senior project, which is where the school gives their students the opportunity to have real-world experience, whether it is shadowing, interning, working at your own job, or creating an art mural within the walls of the high school. In March 2020, I was in a car accident where I stopped at a red light, and I got hit into a car in front of me, totaling my car and leaving me with a herniated disc and a concussion. I spent the summer outdoors, enjoying what I could, until the damage from my herniated disc became worse. I spent October through December (I got back surgery in December) in isolation, so I researched personal finance, and I realized I enjoyed learning about the industry. Afterwards, I knew I wanted to do something in the financial industry, and through a friend of mine, was able to land a position at Berkeley Capital for my senior project.
My Time at Berkeley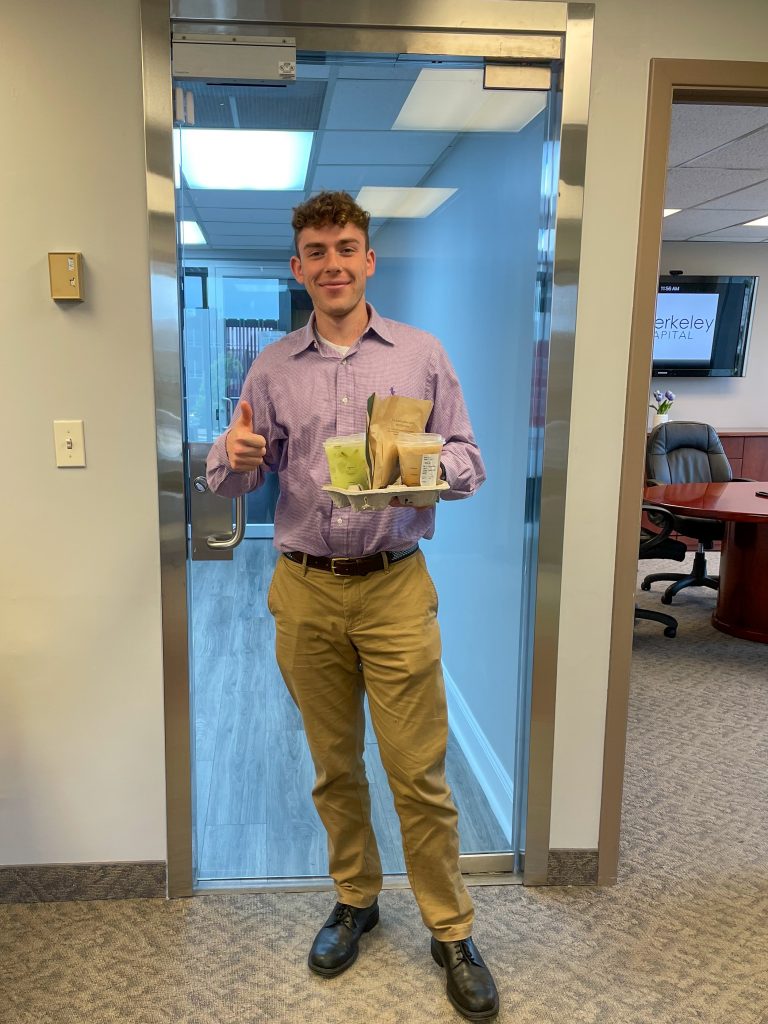 I chose Berkeley Capital because I wanted exposure to the financial industry, as Adnan Zai (my sponsor) said, "[my] biggest weakness is my lack of experience," which holds true because I am a senior in high school. I saw this as an opportunity to be introduced to the industry. Additionally, I chose Berkeley because I wanted to see where I would receive the most exposure. I had the opportunity to continue working at my current job, Waterway, which is a car wash service, but I wanted to go a different route. I can say with certainty that I learned something from everyone who works at Berkeley. Each day, Adnan Zai and I had a meeting. With each meeting came life lessons, office lessons, and I had to come up with three questions to ask Mr. Zai. I never took the criticism to heart because it wasn't criticism, but a lesson learned to prepare me for my future endeavors. As an intern, part of my experience was doing the duties of an intern, whether it was running to Starbucks, going to pick up lunch for the office, or running to the UPS store.  
My Experience
I believe that my experience here at Berkeley Capital puts me ahead of my peers who are interested in doing something in the financial industry. Few high school students have experience working at the corporate level, so I believe that this experience will definitely be a topic in future interviews. I look at my takeaways, or what I learned, on a broader scale that I could carry with me wherever I go. I did both industry and market-specific research for the Director of Finance Svetlana Touline.  Additionally, I learned about offering memorandums (OMs), which are the company's logistical information for someone interested in purchasing a property. On the technical side, I worked with Mike McCurdy and learned how to navigate WordPress and do some website development. Besides learning the typical office mannerisms, I also attended daily standups, which are the meetings about what everyone's tasks are for the day. One of the most important things I have learned is how an office functions, which is where I am held accountable for everything I do, and it is my responsibility to find out what I have to do. Weirdly enough, I did not have to ask to go to the bathroom.  
Adnan has given me many valuable lessons that I am fortunate enough to carry with me in the future, such as don't write in pencil because it shows my age. If you are meeting someone face to face, then appearance is very important because you have to be consistent in terms of how you look and act. Likely the most valuable piece of information that I can carry with me, other than not wearing white socks in the office, is to be a contrarian.
Many people follow a path already forged for them, instead, go a different route and forge your own path. Do your best to not measure success by what you achieve. Lastly, he told me to question everything in my head because I can learn to think outside of the box and reach different perspectives. If I had one thing to say about Adnan Zai, it would be that "he undoubtedly believes there is a lesson to be learned from everything, and he believes consistency is key because you never know who you may see."